Our
Guarantee
Our inspections last an average of three to four hours, not including the write up the home inspection report. We don't rush. We take the time to complete a thorough inspection of your new house or condominium and to answer any questions you may have about the inspection.
We encourage all of our clients to be present at the time of the home inspection and offer a simple guarantee: If for any reason you are not satisfied with the quality of our services during the inspection, we'll either make it right or you don't pay the fee.
90 Days
Warranty
You want more than just a home inspection, you need professionals you can depend on even after the job is done. That's why we back all of our inspections with a 90-Day Structural and Mechanical Buyer's Home Warranty.
The 90-Day Warranty comes with your home inspection. This warranty is valid 90 days from the date of inspection or 22 days after closing, whichever comes later. You will always have at least 22 days worth of coverage.
This warranty covers repairs to the items have found to be in good working condition at the time of inspection and are specifically listed within our warranty.The client will never have a deductible to pay, and claims will be handled within 72 hours of completion.
This button will lead you to 90daywarrantyvalidation.com where you can validate your 90 day warranty included in your Home Inspection. Validation is required of customers receiving our warranties.
Click below to download your 90 day Warranty Policy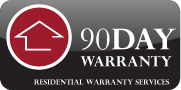 Recall
Chek
Since 1974, by law, American citizens have been protected from dangerous items in their homes. If a manufacturer has designed a dangerous product, they MUST recall all those items and FIX THEM FOR FREE!
The problem with the law is that most often it's up to the consumer to find out whether their appliances are potential fire or safety hazards! There is a database online, but you would have to search through over 200 million recalled items to find out if your dishwasher or air conditioner is a potential hazard. As a result, many of these dangerous appliances are still in homes across America and Canada.
Fortunately, RecallChek is available to do this job for you! Reports are emailed within 48 hours. When you sign up for RecallChek, you automatically receive RecallTrak, a monthly newsletter that updates you on what hazardous appliances you may have – FOR LIFE!
Click below to access the RecallChek Consumer Portal.